Imagine you're driving home from work on an unexpectedly cold evening, wouldn't it be nice to get home to a warm home.
Or imagine you're halfway through your shopping but can't remember if you left the space heater on at home.
Well, with a smart electric heater, these problems can be easily solved via your smart home app.
Why Buy a Smart Electric Heater?
Having a smart electric heater will allow you to control the devices as part of your overall smart home set up so you can power it on/off remotely, create routines with other devices and use your voice to control it, providing it's compatible with Alexa, Google Home or HomeKit.
When might you use a smart electric heater:
To replace dumb electric heaters in your home, these are especially common in modern flats and apartments instead of gas or oil-fired systems
For renters who want to create a smart home without installing a new thermostat
When you need additional heat during the cold months, a portable space heater is ideal
Allow elderly relatives to change temperature without leaving their chair
---
Best Smart Electric Heaters in the UK
Here is a rundown of the best smart electric heaters currently available:
Here are my full reviews of each WiFi heater:
Dyson Pure Hot + Cool – Best Overall
The Dyson Pure Hot + Cool is easily the best smart electric fan heater, but it also packs in a bladeless air purifier.
Dyson are known in the UK for making some of the best smart home devices, and this all-in-one heater, fan, and air purifier is no different. There was no doubt in my mind as to whether this would be the number one smart heater, but with a hefty price tag it might not be for everyone.
The tall product is quite a beast, but it blends in really nicely with its modern look that's available in white or silver, and the bladeless design means it safe for pets and children to be around.
When it's not heating or cooling the room, it's still monitoring and cleaning the air to take in 99.95% of particles. At night it will switch to the quietest mode and dim the screen allowing you to sleep well if it's in your bedroom.
The device is compatible with Alexa smart home using the Dyson skill which will allow you to change modes, set temperature and ask for information about the rooms air quality. If you don't have Alexa, it can be controlled via the included remote too.
---
Princess Smart Glass Heater – Best Value for Money
If you're looking for a reasonable price but still feature heavy, the this Smart Glass Heater from Princess will do the job.
The Princess smart glass panel heater can either be operated on a schedule, using the built in thermometer to decide when to switch it off and on, or it can connect to the Homewizard Climate app which will allow it to be voice operated via Alexa or Google Home.
It has an adjustable thermostat, timer function and an LED touch screen that can be locked so that children don't play with it. As with most heaters here, it includes overheating protection to turn off before it gets too hot.
It doesn't have native schedules allowing you to turn it on and off at certain times, however this can be achieved via a smart home app if you plan to connect it to your home.
Select from either black or white colour scheme and choose between 1500W or 2000W according to your needs.
---
Igenix IG9515 – Our Budget Pick
When the purse strings are tight, this Ingenix comes in at under £70 and still manages to connect with Alexa and your other smart home devices.
The Igenix smart space heater can be either free standing via the rolling castors on the bottom or mounted on the wall depending upon what your requirements are.
The smart heater has built in WiFi allowing it to be controlled via the manufacturers own Igenix app which can be used to set the temperature, choose a heat setting or decide upon the schedule.
It will also integrate with Amazon Alexa so you can set the temperature with your voice.
---
Ecostrad IQ – Best Wall Mounted
This small heater is deceptively powerful and can heat up large living spaces quickly thanks to 2000W output. It works well in conjunction with your central heating.
This wall mounted electric panel heater not only looks smart, but is smart. The glass panel and touch screen interface add a sleek look to any smart home.
It has a 2000W output making it suitable for heating large areas. Three heater modes, a timer mode and digital programming complete the line up of features.
As well as controlling via the touchscreen panel on the front, it is WiFi enabled allowing you to control it via the Smart Life app. Here, you'll be able to view and change the temperature, turn the heater on and off and access different heating modes and menus.
---
Wärme Designer Electric WiFi Heater
Wärme heaters are popular with property developers due to their slim footprint and stylish design, this generation X electric heater has smart capabilities via built in WiFi.
Wärme heaters (surprisingly a brand from Leicester and not Scandinavia) has long been a popular choice for users wanting a sleek, slim electric heater and now they have launched their generation X device which incorporates smart features. The digital screen is easy to read allowing you to see what mode the heater is set to.
This smart electric heater has an output of 2,000W whilst sporting a slim line design that won't obstruct any space from the room.
The built-in thermostat allows you to set a temperature cycle or it can be turned on for instant heat. The entire thing can be controlled via the app where you can select between the three different preset modes (comfort, economy and frost) or you can change the schedule.
It doesn't come with a user manual so you'll need to download instructions, if you're not tech savvy it may be a bit hard to set up due to a not very intuitive user interface.
---
NEDIS – Works with Google Home
This powerful tower heater has plenty of integrations, including Google Home, Alexa and the Smart Life app.
This tower fan heater packs a powerful 2000W that will quickly heat up any room, the built-in thermostat will then switch it down to 1200W to maintain the temperature.
It comes with the Nedis Smartlife app for setting the temperature, but what's most impressive is the integration with Google Home and Alexa for controlling it via voice commands.
As well as setting the temperature, other smart functions of this heater allow you to set schedules, control the pan or choose the fan speed.
---
Dimplex – Best Bluetooth Smart Heater
When WiFi isn't suitable, this Bluetooth heater will still allow control from a mobile device including setting temperature and schedules.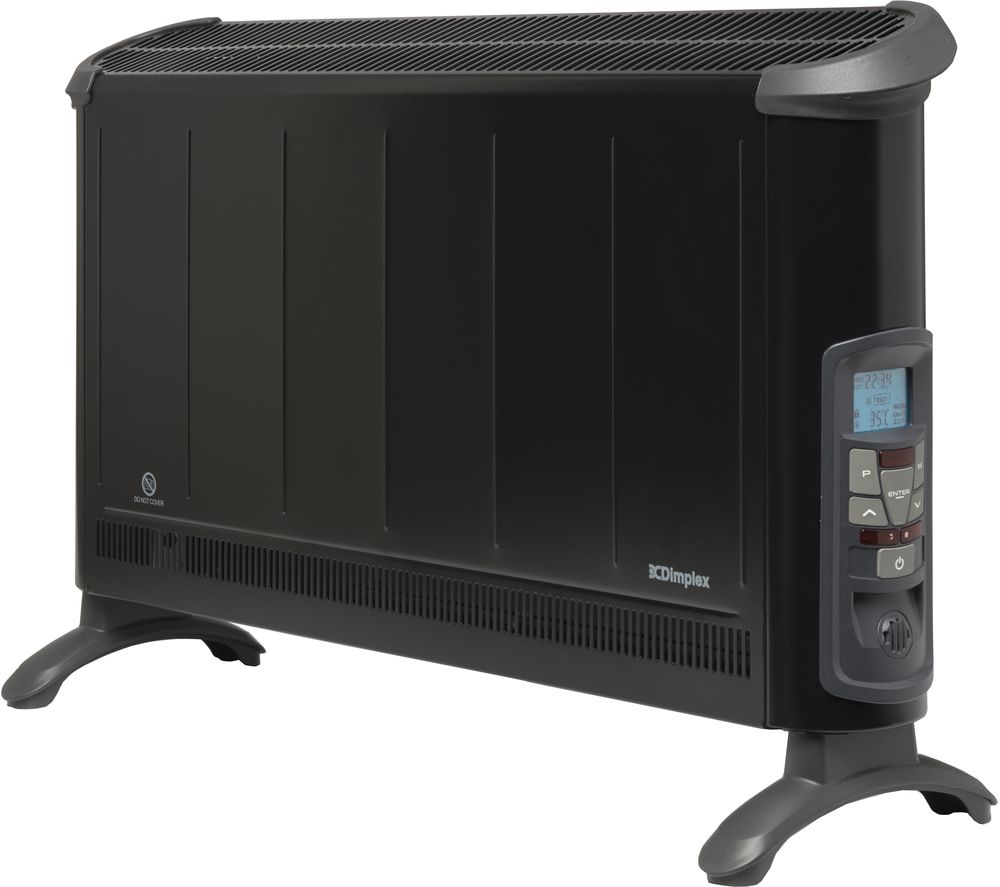 Dimplex might not be a household name, but they are one of the biggest suppliers of electric heaters in the UK.
This Dimplex 403BTB heater has the highest power output of the devices here with 3000W. Unlike the other devices, this is a Bluetooth space heater which allows it to connect directly with your smart phone via their Dimplex REMO app.
The Bluetooth connection means it won't integrate with your smart home as well as the other heaters here, so you won't have access to any voice functionality or be able to control it from an all in one app. However, it is ideal for situations when you may not have WiFi or if you're just looking for a standalone heater that can be controlled from a mobile device.
It has 3 different heat settings, a built-in thermostat and an LED display. This heater will easily warm a mid to large size room on its own.
---
ENERJ – Small Portable Heater
This portable heater can easily be put away when not in use and works with both Alexa and Google Home.
If you're looking for a portable heater for one of your smaller rooms or that can be easily put away during warmer months, then this ENERJ heater will do the job just fine.
It has built in WiFi that can be connected to a smart app and controlled via Google Home or Alexa, allowing you to set the temperature with your voice.
On full power, the heater puts out 1800W, this is reduced as it approached the desired heat in order to maintain room temperature.
---
ElectricQ – Best Oil Filled Electric Radiator
An oil filled radiator is the safest type of electric heater and has the benefit that the heat continues long after it's turned off.
An oil filled electric radiator is a great solution if you're looking for something that will retain heat and keep a room warmer for longer. There isn't a great deal of smart oil filled electric heaters, but this ElectricQ device ticks all the boxes.
It's on castors for easy manoeuvrability and has 3 power settings up to 2,500W which should be plenty for a mid to large sized room.
It can be controlled from anywhere thanks to built in WiFi that allows you to control all of the functions via the smart phone app.
---
Saving in the Long Term
Electric heating systems usually cost around 25% more than an average gas fired heating system (source). But with smart functionality, you can reduce this without any inconvenience.
Making a central heating system smart is usually accomplished with a smart thermostat, but not all heating systems are centrally controlled, many modern flats have electric heaters.
In the earlier example of driving home from work, if you arrive home at different times or work shifts, you can simply set a location based Alexa routine to turn on your electric heater when you leave work – ready for that toasty welcoming.
---
Buying Guide
Before we jump into the full list of recommendations, we've collected a few key considerations you should think about when choosing a device:
Type of Heater
As with buying a dumb heater you'll have to choose between the following main types of electric heater:
Fan heater – Heat is spread through the room by a fan, allowing for an evenly heated room and a well-maintained temperature. The downside is that these use more power and burn more oxygen.
Convection heater – Rely on the premise that hot air rises and cool air falls to eventually heat a whole room, this can take longer to heat than a fan and may be harder to maintain a steady temperature.
Oil based – Oil is heated by the element and circulates through the heater; it will take longer to warm up but will remain warm for a while after it is turned off. These are the safest kinds of heater as there are less things that can go wrong.
Wall Mounted or Space Heater
This will be obvious to you depending upon your need, some electric heaters have both a stand and wall mounting capabilities, although most have one or the other.
WiFi vs Bluetooth
Most devices will integrate with your smart home via WiFi, these will connect to your router and be accessible through the cloud. A few devices run off Bluetooth, there is a time and place for these, but you'll only be able to connect when you're nearby which limits the features.
Voice Control
If you have a Google Home or Alexa-enabled device such as an echo, you will want to consider if your new heater will integrate with this.
---
Conclusion
Overall, the Dyson pure hot and cool is our top pick for the best smart electric heater, it has all the functions you could need from a heater whilst also packing in an air purifier and fan.
If you need something in a mid-range price tier, the Princess Smart Glass Electric Heater offers great value for money and can be either free standing or wall mounted.
We hope this guide has been useful and encourage you to check out some of our other smart home guides.